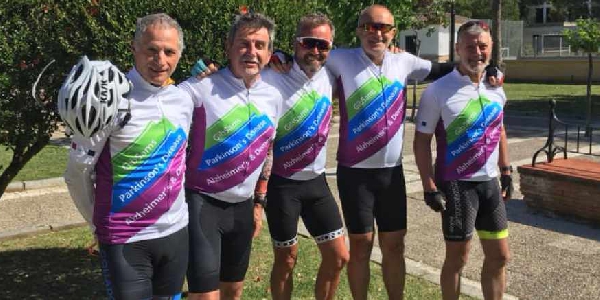 Five local cyclists will be collecting funds for local charities by riding together around the Rock for 24 hours on Friday and are asking for community support.
'Cycling to Raise Awareness' that is the motto of 5 local cyclists who this Friday will be riding together around Gibraltar for 24 hours. The riders will be collecting funds for 3 local charities. Gibraltar Alzheimer's and Dementia Society, Gibraltar Parkinson's Support Group and GibSams.
At 6pm on Friday, His Worship the Mayor John Gonçalvez will officially set off the riders in Main Street outside the House of Parliament. This will be start of what is going to be a very challenging event bearing in mind that the cyclists will only be allowed to stop for a maximum of 5 mins after every hour of cycling. They will use time to recover their energy either by eating foods which high in protein and carbohydrates or to change from day to night clothing.
It's not the first time that these 5 cyclists, Ian, Mark, Peter, Jimmy and Michael whose ages range from 54 to 67 years,have joined forces to do a charity event. They rode together a few years ago from Santiago de Compostela to Gibraltar, however this challenge is on a different level as there is not much rest within the 24 hours and muscle tiredness may creep in. Nevertheless they are in high spirit.
During the ride, volunteers from the 3 charities will be at The Piazza promoting the event, the charities themselves and in the process collecting donations. All monies collected will in their entirety be equally shared between the 3 charities.
The team is asking the community to support them when seen around Gibraltar, they also request other road users to be patient with them especially when cycling up the hills.
The team wishes to thank PJI Foundation for sponsoring their maillots.