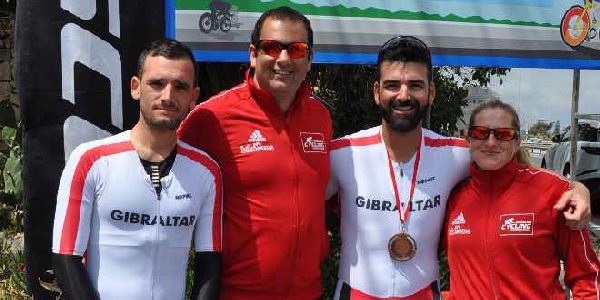 The third stage of the Tour of Malta took place and was a 65km flat course with the 4th and final stage of the tour being held on the San Martin circuit.
A statement from the Gibraltar Cycling Association reads:
The third stage of the Tour of Malta, a 65km flat course characterized by windy conditions and tactical decisions from the teams and top riders, had all Gibraltar cyclists as main actors.
Stacey Rowbottom is gaining valuable experience as each stage goes by. In this case, she excelled and managed to stay with the leading female group until the very end, sprinting for a podium. The bunch group sprint finish saw Stacey gaining another position in the general classification.
Derek Barbara learnt quickly from his tactical mistake on stage two. This time round, he played his cards well, held his nerves and stayed sheltered until the very last few hundred meters when his impressive power once again stunned most of the riders to gain him and Gibraltar another historical podium.
The performance of the day award, goes to Aaron Baglietto. Aaron surprised most of his elite opponents attacking mid-way through the race and went on a solo effort to catch up with the leading fugitives and eventually managed to keep the gap gained from the main peloton until the very end, where he sprinted for the 5th and 6th position. Aaron's performance is to be given more credit, considering that he was the only Gibraltar Cyclist in the peloton, were as the other teams all had four to six riders supporting each other.
The 4th and final stage of the tour will be held on the San Martin circuit characterized by a steep 3km hill climb followed by a very fast and technical downhill. There is no doubt that all eyes will be on Derek Barbara as he currently sits in 3rd position overall in the Masters category, only 44 seconds from the leader and with an advantage of 15 seconds on the 4th cyclists.