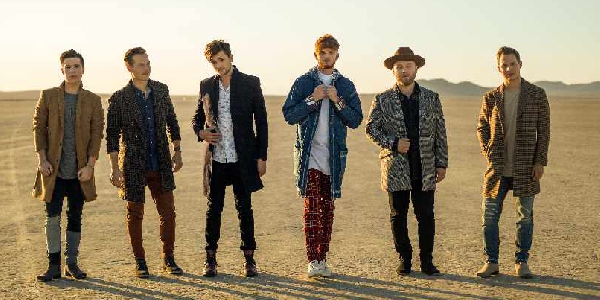 Gibraltarian musician Simon Dumas will be bringing his band King Calaway to the Rock from the USA to perform at this year's Gibraltar Calling Music Festival.
A statement from the Government reads:
Six unique voices. Six top-notch instrumentalists. Three different countries. Featuring a half dozen musicians from both sides of the Atlantic, King Calaway is proof that there's strength in numbers.
Before coming together in 2018, bandmates Caleb Miller, Chris Deaton, Simon Dumas, Jordan Harvey, Chad Michael Jervis and Austin Luther all pursued their own solo careers, racking up a long list of milestones — including CMA Awards performances, international tours, session gigs, and BBC TV appearances — along the way. They could all sing. They could all play. And one by one, they all found their way to Nashville, drawn
to the city by its rich, diverse music scene.
That diversity reaches a new peak with King Calaway. A multi-national supergroup of harmony-singing, instrument-playing musicians, the band makes anthemic country music for the modern world. Songs like "World For Two" show the full range of their sound, mixing groove, grit and rootsy stomp in equal doses. In an age when music fans listen to everything, filling their playlists with songs from every corner of the musical spectrum, King Calaway is something new and fresh: a band that both embraces country's roots and reaches far beyond them.
There's no lead singer here. No singular star. Instead, Jordan, Chad and Simon all share frontman duties, backed by thick, multi-part harmonies from Chris, Caleb and Austin. The result is a layered vocal sound that nods to the band's influences, including the Eagles, Keith Urban, and Ed Sheeran.
And just like the Eagles, every member of King Calaway is also an adept, well-rounded musician, from the guitar-playing Caleb — who became a professional studio musician at 13 years old — to Austin, a highly trained bassist who toured the world with multiple acts before joining the group. Simon first earned an audience at home in Gibraltar, with his expressive piano playing and pop-oriented song writing.
Together, they're a group worthy of country-pop royalty. Working alongside co- producers Robert Deaton and Ross Copperman (who also penned several of the band's songs), the creative visionary production team captures King Calaway's natural sound with broad, bold strokes, emphasizing real instruments and live performances. It's an organic approach to a dynamic sound — one that allows the band's chemistry to shine through clearly.
Hailing from across the globe — from the small towns of the American Midwest to the southernmost tip of Europe; from the Atlantic seaboard to the Central Belt of Scotland — King Calaway brings a worldly perspective.
They are country stars for a new generation, singing songs that erase the boundaries between genres and countries. They aren't looking to blend into the crowd. They're not even looking to fit in. They're in the business of standing out...and King Calaway stands tall.
INDIVIDUAL BIO
Simon Dumas:
Born and raised in Gibraltar, Simon Dumas is one of King Calaway's three frontmen, as well as the band's pianist. He has spent much of his life onstage, starring in a school musical as a child before landing a spot in a Gibraltar-based choir that competed internationally.
Later, while earning his degree at the Royal Northern College of Music in England, he sharpened his song writing chops as the frontman of Frontiers, a group that also featured his two older brothers.
Simon moved to America during his final year of college to study at USC and joined King Calaway less than a month after he finished, foregoing an opportunity to become a Catholic missionary. "He's still very grounded in his faith," says drummer Chris Deaton, "and we're so lucky to have him."
KING CALAWAY PERFORMANCE
King Calaway perform on Sunday 8th September 2019.
This year's Gibraltar Calling event will move to the new state of the art stadium Europa Point Leisure Complex located in Gibraltar and will take place over the weekend of Saturday 7th and Sunday 8th September 2019.
The event is produced by Neon Angel (Gibraltar) Ltd with early bird tickets set to SELL OUT today, May 15th, at www.gibraltarcalling.com
Gates will open each day at 4pm.
More exciting talent announcements are still to come! Be sure to sign up for all the latest announcements at www.gibraltarcalling.com