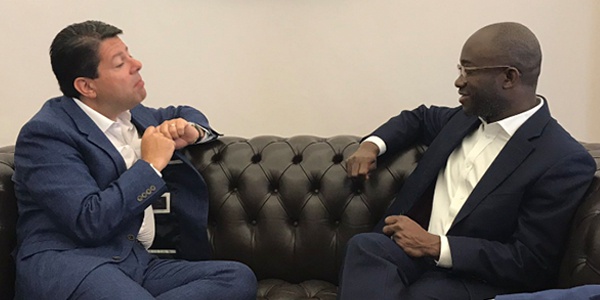 MP Sam Gyimah has announced his ambitions to be PM following his visit to Gibraltar this week becoming the 13th candidate for the Conservative Party Leader contest.
It had caused some confusion earlier this week amongst his own constituents and the local press when the MP for East Surrey visited Gibraltar to discuss Brexit matters with Chief Minister Fabian Picardo. In fact, the visit went mainly unmentioned.
Today though the significance of the trip to the Rock has come to light as Mr Gyimah announced his intention to stand with the twelve other hopefuls hoping to become Conservative Party Leader when Theresa May steps down next week.
It is a significant in terms to Gibraltar as Mr Gyimah is the first MP in the leadership race to declare that he would back a second referendum, the so-called 'People's Vote'.
Whilst in Gibraltar earlier this week, the MP who resigned as minister for Universities last November spoke on social media about the impact that a no-deal Brexit would have on our "family of nations".
He recognises following his talks with the Chief Minister this week that a no-deal Brexit will "create chaos at the border."
He met with not only Fabian Picardo, but members of the border authorities and made a pledge to stand together with Gibraltar and lessen the risk of "tearing us apart and isolating Gibraltar. Gibraltar is a vital part of the British family of nations. As we work for a Brexit resolution, we should not give up the Rock"