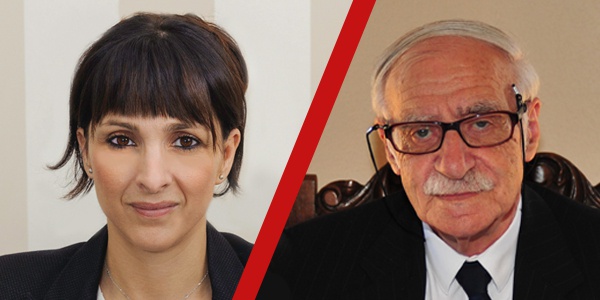 Marlene Hassan Nahon says the Minister for Economic Development's comments on GBC's Viewpoint programme "demoralise, personalise and mislead."
A statement from Marlene Hassan Nahon, leader of Together Gibraltar reads:
Following the contribution of Sir Joe Bossano on this week's Viewpoint, various questions must be raised. In the first instance, the fact that he openly admits that there are no qualified members of civil service staff to take the high level positions offered to those who have retired and are being re-absorbed into the system with their pensions and gratuity payments in tow, leaves us wondering why this is, where is the succession planning and how the lack of such planning is affecting the current day-to-day workforce. It is this factor that also contributes to talk of unsustainability within the public sector because when the capable workers of our civil service are not being prepared to aspire to high level appointments, the result will be a highly demoralised and unproductive workforce, and THAT is unsustainable, and this is something which this administration has the duty to analyse and rectify instead of constantly passing the buck.
Furthermore, Sir Joe claims that employees within the civil service earn more than in the private sector, and this is why they keep moving over. This comment is totally broad brush and does not apply across the spectrum, leaving us all with a completely misleading picture of the way things really are.
In addition, Sir Joe's lack of empathy and justice for the plight and insecurities of long term supply workers is less than socialist coming from someone who describes himself as socialist. People who have been working daily for years on zero hour contracts do not consider themselves as plugging holes for temporary absent employees. They have lives and families and they naturally start feeling and integrating as part of a normal workforce, yet they go without any of the due rights they merit. This leads to lack of morale, which in turn leads to a natural decline in productivity, and an overall malaise in the public sector, for which the Government only has itself to blame.
What the previous administration may or may not have done better or worse is irrelevant seven years after a new administration has taken office, and this Government should start taking responsibility for why our public sector workers are managed in this way.
Lastly, it is truly sad to see an ex Chief Minister, and current Government minister with trade union roots, personally attacking a trade union leader, something which is at best inelegant and unbecoming of a government minister, and at worst deeply concerning for the democratic credentials of our community.