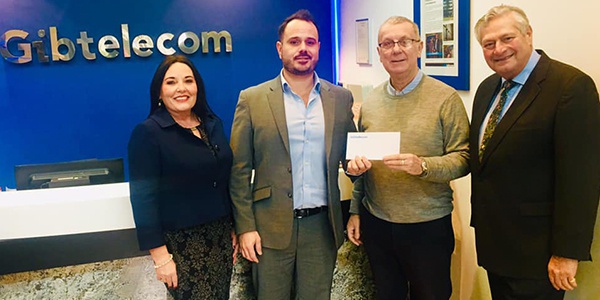 A cheque of two thousand pounds was handed in to the Calpe House Trust by charity premium which has been supported by Gibtelecom for the past three years.
A statement from charity premium reads:
Gibtelecom has been supporting the charity making an annual donation of £10,000 for three years (2016 to 2018) towards the development of the new Calpe House. The Company also set up three donation telephone numbers free of charge allowing callers to make their own contributions towards Calpe House, with Gibtelecom wavering its share of the revenue and donating it towards the charity.
The total money raised via the charity premium numbers during 2018 was £1,893 with Gibtelecom topping up this amount to £2,000.
A cheque was presented to Calpe House Trustees Deborah Huxley, Charles Marfe and Chairman Mr Albert Poggio by Gibtelecom's Assistant Marketing and Business Development Manager Shaun Zammitt.