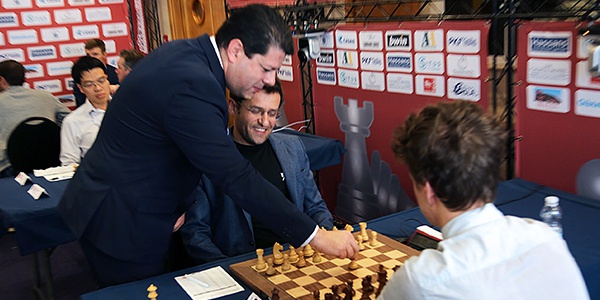 Fabian Picardo spoke of how fantastic it was to receive young players and grandmasters at the festival and hoped that they felt "comfortable and at home" on the Rock.
On arrival Fabian Picardo was met by festival founder Brian Callaghan and was presented with a bunch of flowers for his wife Justine by nine year old chess player Chloe Kou who participated in the first ever Chess Seminar on the Rock.
Mr Picardo also met Dommaraju Gukesh the youngest Grandmaster in this year's tournament and second youngest Grandmaster in history. The 12 year old player from India exchanged a few moves on the chess board with the Chief Minister of Gibraltar after which Mr Picardo commented: "impressive, he beat me in three moves".
He also recognised that it was Gukesh's first time on the Rock and hoped he would see him again next year.
Mr Picardo welcomed all the players to the tournament and took the opportunity to announce that a large scale communal chess board would be set up and become a feature in the new park outside of the new Midtown Gibraltar development in the heart of the Rock. "Gibraltar wants to continue to be the home of chess, and we want to grow this festival. We want it to appeal to all nationalities to all demographics within the chess world. We also want local children to be tuned into chess." He was very keen that the schools chess programme should continue to grow in all schools.
All round he had been particularly impressed by the many chess players who annually visited Gibraltar and took part in the festival.
Asked about the link between chess and the law in relation to his own legal background he recognised the many connections between the game and the law.
"In the same way as there are connections between the law and politics and chess and politics," he commented.
"It is all about the intellectual fighting out a corner and defending an idea. In the same way as you defend a position and plot a course to achieve what in chess might be winning a match or turning a pawn into a queen, in politics or in law, it might be winning a case and achieving a recognition that your argument is the right one and therefore succeeding – step by step, sticking to the rules and getting to a destination."