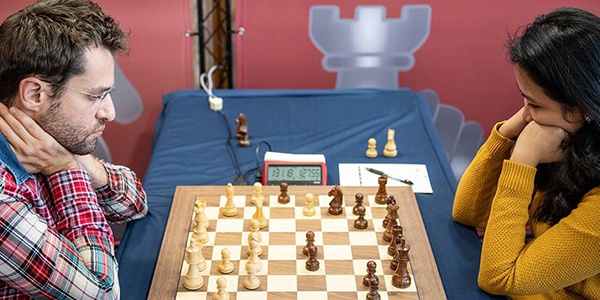 The closing ceremony for this years International Chess Festival was held at the Caleta Hotel with the announcement of winners and the next chess festival.
A statement from the Gibraltar International Chess Festival reads:
The 2019 Gibraltar Masters Champion and winner of the £25,000 top prize is Vladislav Artemiev from Russia.
The top women's prize of £15,000 was won by Tan Zhongyi from China
Second prize went to Murali Kathikeyan from India.
The Best Games prize was jointly won by Alejandro Ramirez (USA) and Gawain Jones (ENG)
In his winning speech Vladislav Artemiev spoke of how strong the competition was in the Gibraltar Masters and how he had felt at home and hoped to return next year to defend his title.
SPEECH BY Deputy Chief Minister of Gibraltar Dr Joseph Garcia
"It is a pleasure to be here again and to be asked to say a few words on behalf of the Government of Gibraltar. Let me say that the Government is very proud of the annual chess festival. It has become one of the main events on the Gibraltar calendar and I would like to thank all those who have been involved in the organising of this event over the last few years.
"I also want to thank the participants because those taking part in the different tournaments are the ones that make it and this year there have been 400 players from 62 countries taking part.
"Those 62 countries make the chess festival the most important international event that has ever taken place in Gibraltar. So well done and many congratulations.
"I want to take the opportunity to re-state the commitment of the Government of Gibraltar and our commitment on behalf of the people of Gibraltar to the further development of chess in Gibraltar.
"It was included in our manifesto in 2011 when we were first elected, we repeated it again in the 2015 manifesto, and certainly it will come as no surprise that we will have it again for 2019.
"It is an absolute pleasure on behalf of the Government to be able to support chess. We have seen how it has encouraged the development of junior chess in Gibraltar which is also extremely important. This year you also had the very successful event at the University.
"The Chief Minister will also be launching a new giant chess set in the Midtown Gibraltar development when this is complete.
"Brian Callaghan is the father of chess here in Gibraltar. He had the idea to hold this tournament and he deserve a considerable amount of praise for the success of this event."
SPEECH BY Founder of the festival Brian Callaghan
"Deputy Chief Minister, Minister, ladies and gentlemen.
"There are of course only two families in this room tonight who have been at every chess prize giving dinner for the last 17 years. One is of course Pia, Juan and Ana and the other is the family of Joseph Garcia, our Deputy Chief Minister. I think we can consider him as a chess convert. He is closely followed by his colleague Minister Steven Linares who is here tonight. I thank them and their wives Penny and Jackie who are here tonight with us.
"I also want to say I believe that the commitment of James Humphries and Tim Bristow of Tradewise and Gibtelecom have helped get us where we are today.
"Now the battle of the sexes is a game of chess unique to Gibraltar. It consists of two teams, one of 5 men and the other of 5 women. Reserves can be introduced by team captains and the whole thing led by a man wth a guitar, my friend and your friend, our Gibraltar resident Grandmaster Stuart Conquest.
"The captains of the battle of the sexes this year were, as I hope it will always be, the wonderful Ety Stefanova – and I cannot mention her without mentioning her new young girl Melissandra...and I guess I should also mention Ivan for I'm sure he should get some of the credit too.
"The men's captain was our new FIDE vice-president, Nigel Short, Icall him our vice-president for he has played Gibraltar some 13 or 14 times. Nigel, thank you for being with us. I know the chess gets tougher.
"Nigel was though outplayed by the tactically brilliant Ety and her team; the consequence was that the women beat the men two games to one and that was a victory indeed.
"There was much celebration and I believe Delhi came to Gibraltar – on the dance floor that is!
"We have a number of firsts this year:-
"We have had more women entrants than ever before and ladies by your numbers here tonight you confirm Gibraltar as a home of women's chess. Thank you
"We will further encourage female players to Gibraltar and we will publish that encouragement in the magazine "new in chess" and of course on our own website in the months ahead. We will not forget all those who come to Gibraltar to play chess.
"Most players, male and female, come to get the opportunity to play against some of the very greatest and super elite of the chess world and I make special mention of Hikaru, Lev and Maxime who have become almost our resident super elite players – joined this year by Wesley So – welcome Wesley. I thank them for continuing to support Gibraltar and Wesley I hope you will return.
"I am also delighted to see the world's youngest grandmaster, Gukesh, for the first time in Gibraltar and we hope he has enjoyed his experience together with many of his Indian colleagues.
"We have also for the very first time linked chess with the Gibraltar university. Mariya and Anna Muzychuk, two former world champions, opened that partnership by hosting the first seminar which we dedicated to the junior players of Gibraltar. Anna, Mariya thank you.
"We have already arranged with Veselin Topalov and Liz Peatz for the next festival seminar and we are working to introduce a summer seminar programme with the university. We will work to encourage amateurs and challengers alike.
"It is the first time we have ever had such a strong tournament.
"That is difficult to illustrate but perhaps if I tell you that a previous four times winner, our friend Hikaru, found himself sitting next to another great friend, Yu Yangyi, from China – on board 44 and 43, in round 3 after just 2 draws.
"That I think demonstrates the strength of the Gibraltar open. Needless to say Hikaru was playing board 1 in round 7 and Yu Yangyi board 4.
"71% of all games played have had a decisive result and some 60% of the top twenty boards have registered wins. These decisive results illustrate the success of open tournaments with elite players involved.
"Most importantly Gibraltar is a show case opportunity for talented players. It is their Hollywood moment Gibraltar is proud to offer it to them.
"That is the essence of an open tournament where top professionals can play a more adventurous game. In round 6 we had just 2 draws in the top 10 games. That's unheard of in chess competitions.
"It's the first time we have had so many countries represented. In round 7 we had 8 players tieing for first place. All those players came from different countries. Also unheard of: Players tieing for first place. All those players came from different countries. Also unheard of.
"This is the 17th year of the Gibraltar chess festival. Why is it of such special significance?
"For the very first time I believe that FIDE under the new leadership of Arkady Dvorkovich and his team, many of whom are friends and well known in Gibraltar, have a real chance to make an impact for the game of chess around the world.
"In 17 years I have never had one word from fide acknowledging the Gibraltar contribution to chess or chess players.
"You will therefore understand my delight when the new director general of FIDE, Emile Sutovsky, chose Gibraltar to make its important announcement about the future of world championships.
"I wish our friends in that organisation every success.
"Thanks to the whole chess team – thanks to the hotel team and thanks to our sponsors, travel safe and see you next year.
NEXT YEAR THE FESTIVAL WILL BE HELD FROM 20 TO 30 JANUARY 2020.