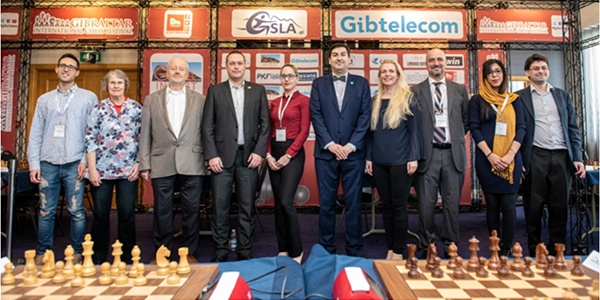 Tournament Director Stuart Conquest said the festival, in comparison with other tournaments, shows how diverse the event is with 62 nations taking part each year.
"The diversity of this tournament at every level – players and arbiters – is hugely important. We have 62 nations represented among the players. To have six or seven represented among the arbiters is excellent for the festival," said Tournament director Stuart Conquest.
Diversity in players and in the working team of arbiters is something, Mr Conquest, has promoted and encouraged ensuring competition works like clockwork.

This year, a team of eight arbiters have run all the tournaments – Amateur, Challengers and Gibraltar Masters - during the ten day festival. They monitor play making sure everyone keeps to the rules and regulations of play as well as manning and invigilating all three daily tournaments.

Annually the team includes English and Spanish arbiters. All arbiters are qualified, experienced and recommended.

The selection of the team annually is carried out by Mr Conquest and Chief Aribiter Laurent Freyd who has been coming to Gibraltar since 2009 and has been at the head of the Gibraltar Masters since 2010 and of the whole festival since last year. He is also the Chief Arbiter of the French Chess Federation and is Chairman of the Arbiters Commission of FIDE. He has also arbitrated at the World Rapid & Blitz Championship 2018 in St Petersburg, Grand Chess Tour Final 2018 in London, Biel International Chess Festival 2018 (Switzerland).
This year, six nationalities have been represented in the arbitration team from France, England, Spain, Estonia, Serbia, Germany and for the first time from Iran. Between them they speak more than 10 languages.

Mr Freyd is also keen to maintain this diversity and has always felt it was a good move on the part of the organisers as it gives a very positive message to all participants. "Internationality is in the DNA of this tournament," he emphasised.

"It's important to have arbiters from around the world as it encourages exchanges. The team is very well experienced and technically trained, so, this is a way for arbiters to increase their experience in the strongest open in the world. New blood is always a good opportunity to listen to other points of views and practices. It keeps us on our toes."